Hakusanroku Journal
白山麓ジャーナル: 2022年9月の記事

Hello everyone, this is Apirak Sang-ngenchai, one of the learning Mentors.
On September 2nd, I went to the Nomi City Disaster Control Center (能美市防災センター), which is a Disaster Prevention Center that anyone can use as a place to experience and learn about disaster prevention. The Nomi City Fire Department and Terai Fire Station are located within the center. During my visit, I learn to prevent myself from various types of disaster, such as earthquakes, typhoons, and firers. So that I would like to share my experience with you through my article.
こんにちは、アピラク・サンゲンチャイです。ラーニングメンターの1人です。
9月2日、防災に関する体験や学習ができる能美市防災センターへ行ってきました。センター内には、能美市消防本部と寺井消防署があります。能美市防災センターで、地震や台風、火事など、様々な災害から身を守る方法を学びました。この記事を通して、私の経験を皆さんにお伝えしたいと思います。

The building has six floors. The first floor is Scenario 1, where earthquake simulation machines are located. It is my first time experimenting with an earthquake of magnitude 7.
 建物は6階建てです。1階のシナリオ1では、地震を体験できる機材が設置されており、私はマグニチュード7の地震を体験したのは初めてでした。



Scenario 2 is protecting yourself from smoke.
 シナリオ2では、煙から身を守る体験ができます。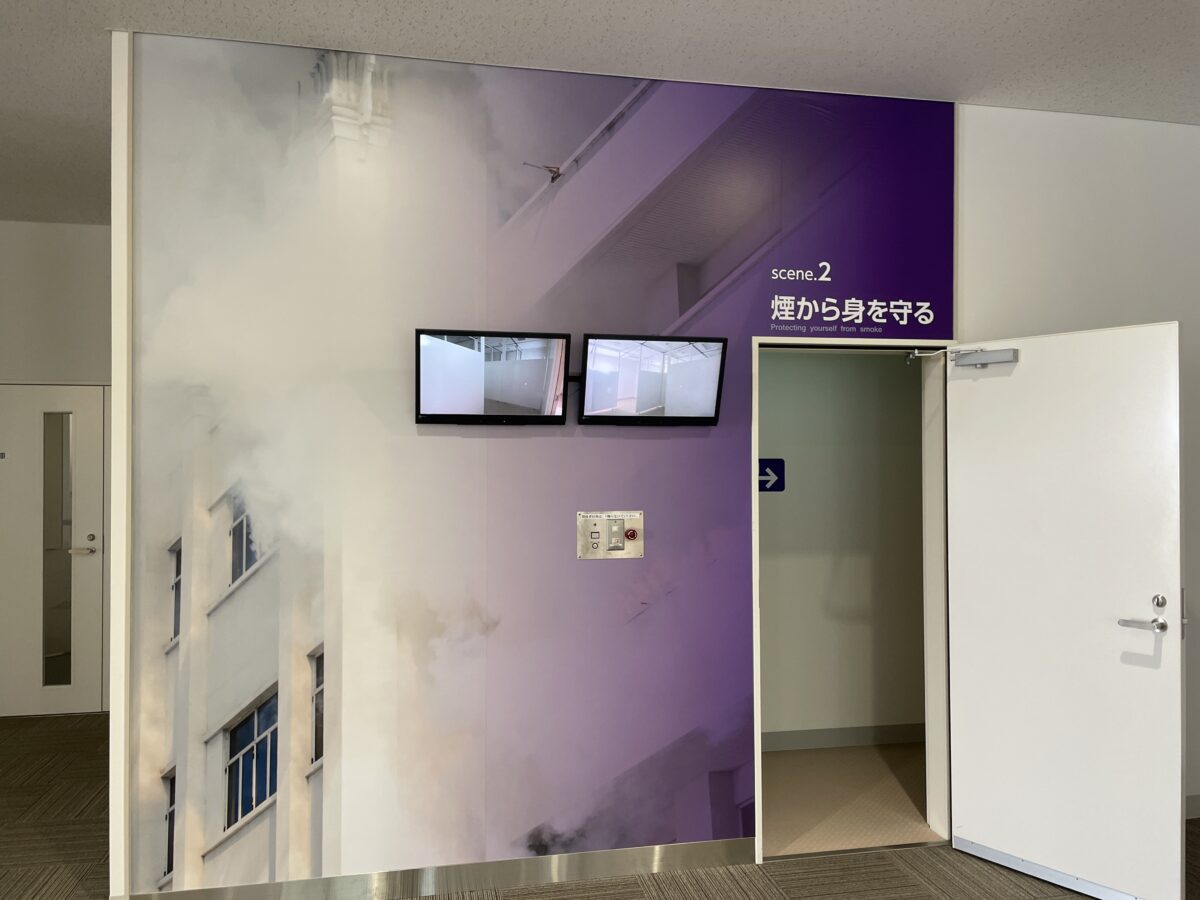 Scenario 3 is protecting yourself during a fire.
 シナリオ3では、火災から身を守る体験ができます。 



Lastly, Scenario 4 is protecting yourself from strong wind.
 最後に、シナリオ4では、強風から身を守る体験ができます。



On the fourth floor, there are 3D theaters where you can learn about the fear of disasters and the importance of preparedness through simulated disaster experiences.
 4階では、災害の疑似体験を通して災害の怖さや備えの大切さを学ぶことが出来る3Dシアターがあります。



There is also an exhibition corner where you can learn about past disasters and disaster prevention measures at home.
 また、過去の災害や家庭での防災対策について学べる展示コーナーもあります。


Thank you for your journey through the end, and I hope you can come and visit the Nomi City Disaster Control Center.
 最後までご覧いただき、ありがとうございました。ぜひ、能美市防災センターへ行ってみてください。
Apirak Sang-ngenchai
アピラク・サンゲンチャイ
 こんにちは。白山麓高専事務室の間加田 侑里です。今回は7月29日(金)に行われたエンジニアリングデザインⅠAの最終ポスター発表について紹介します。
 1年生が履修するエンジニアリングデザインⅠAでは、日常生活や環境における問題を発見し、解決策を生み出すためにプロジェクトベースで学習活動に取り組みます。プロジェクトを通してアイデアを素早く試作するための基礎知識や手法を学び、アイデアをカタチにすることで価値創造を楽しむことを目的としています。
 今回のプロジェクトでは、「毎日使う最悪のもの」をリデザインし、その中にある不便な点を解決することが課題です。自室に取り付けるものや、授業中に使用するものなど、学生たちが日常生活の中で不便だと思うものは様々でした。
 まず、最初の授業では、自分たちが感じている不便なものや場所等を紹介する1分間の動画を作成しました。次に、解決策をスケッチして教員たちにプレゼンテーションし、フィードバックを受けるデザインレビューセッションが行われました。 そこでは、モノの機能や、安全性、デザイン、素材、必要性等についてフィードバックがありました。そして、段ボールや紙を使って簡易的な模型を製作し、サイズや機構を確認しました。その後、Fusion360やイラストレータを用いて3Dモデル等のデジタルデータを設計し、3Dプリンターやレーザーカッター等で実際にプロトタイプを製作しました。最終授業で行われたポスター発表では、製作したモノ、そのプロセス、問題解決、ユーザーニーズ、使用結果の検証、今後の改善点、結論等を発表し、審査員の教員たちから質疑が行われました。

 初めて使用するFusion 360で試行錯誤を重ねながらモデル設計し、3Dプリンターやレーザーカッターでモノを製作する姿に成長を感じました。そしてエンジニアリングデザインの授業で学んだ「問題発見、アイデア創出、設計して形を作り出す、検証」というデザインプロセスを経験し、グローバルイノベーターへの第一歩を踏み出すことができたのではないでしょうか。今回の授業で得た新たな学びは、今後に繋がることでしょう。
間加田 侑里
【授業の様子】
【A glance into the classroom】
Hello. This is Yuri Makada from the Hakusanroku office. Today, I would like to introduce the Engineering Design IA poster presentation held on Monday, July 29th.
In Engineering Design IA, the students work on project-based learning activities. They find problems in their daily lives and environment and create solutions for these problems. Through the projects, students learn basic knowledge and methods to make quick prototypes of their ideas and enjoy value creation by giving shape to their ideas.
For this project, the task was to redesign the worst thing that they use every day and improve it. There were a variety of things that the students found problematic in their daily lives. They included things that they install in their own rooms, use during class, and so on.
First, in the class, students created a one-minute video introducing the things, places, etc. that they felt were inconvenient. Next, there was a design review session where they sketched out their solutions, presented them to the faculty, and received feedback. Feedback was given on the objects' function, safety, design, materials, necessity, etc. Then, a simple model was built using cardboard and paper to confirm the size and mechanism. After that, the students designed 3D models and other digital data using Fusion 360 and Illustrator, and fabricated prototypes using 3D printers and laser cutters. The final class was a poster presentation session where the students presented their prototypes, the process, problem solving, user needs, verification of results, future improvements, and conclusions, and student answered questions from the faculty.

I could see the students' growth as they designed models through trial and error using Fusion 360, which they were using for the first time, and fabricated objects using 3D printers and laser cutters. I believe that they were able to take the first step toward becoming global innovators by learning about the design process of discovering a problem, creating an idea, designing and creating a model, and verifying the design. This experience will serve them well in the future.
Yuri Makada
 こんにちは。白山麓高専事務室の間加田 侑里です。7月27日(水)に行われたベアード・ポーリン先生の授業「English Reading and Writing ⅠA」で、4名の学生たちがジャーナルを作成しました。どうぞ、ご覧ください。
Hello, this is Yuri Makada from the Hakusanroku office. On Wednesday, July 27, 4 students created a journal in English Reading and Writing IA class by Baird Paulin sensei (Prof.). I hope you enjoy it.


Hi. It's me, Haruki Ohta.
On the weekend, Ayuri and I had a WRO robot competition. In the competition, there were a lot of people, and I was surprised. We entered two rounds. In the first round, we had mechanical trouble with the color sensor and the gyro sensor because it was different from the conditions at the ICT field and the real field. I had a hard time, but we made some adjustments and tried a second round. I was happy to succeed in the second round. I got first place at the award ceremony. What a surprise! I never thought I would win an award. I can now go to the national championships, and I will do my best.
(This journal was written before the WRO Japan 2022 finals took place on August 29.)
【TOPICS】WRO Japan 2022 Finals
【TOPICS】WROJapan 2022 Ishikawa Regional Qualifier
My name is Hitoshi Terai. I'm going to tell you about my weekend.
This weekend I enjoyed the BBQ at ICT Hakusanroku campus. I ate many foods. For example, I ate sausages, hot dogs, beef, and Coca-Cola. These were very delicious! I recommend these foods to you. I think hot dogs were the most delicious of these foods and I want to eat them again.
I also enjoyed some sports such as baseball, basketball, and an unknown sport. The unknown sport was very fun. This sport involved throwing a cloth sac into a hole. This move was very fun because I used my brain. For example, I had to think about which angle is the best and how to throw the sac, etc. This game is called corn home. My score was seven. Very bad! The max is 21 points, but I want to play this game again. By the way, I think the barbeque was fun and I want to enjoy that again.

Hello. It's me, Ryona Natsuki.
This school held a barbecue party three days ago. There were several kinds of meat. I ate hot dogs and steak, these were SO good! After eating, I played some sports. One of them was basketball. I scored some points, so I felt very excited. In my team, there were no teachers, however, the enemy's team had Mr. B. In my usual life, I don't often get to play with teachers. Therefore, this time was so fun! I think that holding an exchange like this was good. It was so good to communicate between students and teachers! Next time the party is held, I want to join it.


Hey! It's me, Haruto Shiraishi.
Last weekend, we enjoyed a barbeque. ICT students and ICT teachers ate meat, ice cream, and drank cola. That was fun. After that, we played games. For example, we played basketball and baseball.
My favorite game was corn hole. That was my first time playing the game. Brandon taught me the rules. He's a good cornhole player. It was difficult for me at first because that sack flew in strange places, but I got used to it. Then I could easily put it in the hole. Brandon said this game is made in America.
At the end of the event, I returned to reality. The reason for this is that I had a lot of homework, and I should have studied for a test, so I felt very sad. I had to work hard. It was a tough day.


【Hakusanroku Journal】BBQ Party wrritten by Edward Basquill sensei (Prof.).